About Us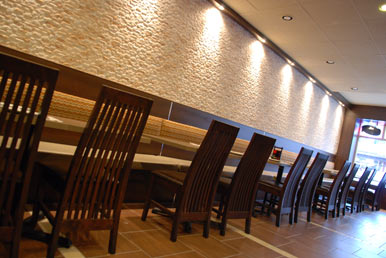 Located in the heart of the Bloor West Village, Westwood Grill Pan-Asian Cuisine has been serving the best in contemporary Chinese, Thai, Szechuan and Dim Sum since 2003.
Westwood Grill Pan-Asian Cuisine has embraced the philosophy of fast and fresh Asian food, 100% pure vegetable oil is used for all cooking with no added MSG! This has ignited the trend to healthier, fresher, non-additive Asian cuisine.
Dim Sum is freshly prepared and served everyday. Most dim sum are savoury, but there are also sweet, vegetable, and meat varieties. The portions are bite-sized and are usually served three or four to a plate, so that diners can enjoy a variety of flavours.
Westwood Grill Pan-Asian Cuisine has linked its fresh, healthy Asian food concept with excellent cooked resulting in high customer satisfaction & loyalty.
Our dedication to quality, value, and service ensures a wonderful dining experience again and again.
Westwood Grill Chinese Restaurant has been awarded "Eat Smart" by the Public Health Unit, along with the Canadian Cancer Society (Ontario Division) and the Heart and Stroke Foundation of Ontario.

Eat Smart is an award that recognizes top Ontario restaurants for achieving excellence in providing healthy food choices and a healthy environment for their customers.
List of Awards:
1. Best Toronto Restaurants from urbanspoon.com 2014
2. 2010 ANNEX/BLOOR WEST Readers Choice Award
- Diamond Winner of the Best Seafood
- Platinum Winner of the Best Thai Restaurant
- Platinum Winner of the Best Ribs & Wings
- Golden Winner of the Best Chicken
- Silver Winner of the Best Wings

3. 2009 ANNEX/BLOOR WEST Readers Choice Award
- Platinum Winner of the Best Thai Restaurant
- Golden Winner of the Best Asian Restaurant
- Golden Winner of the Best Seafood &amp Vegetarian

4. 2008 ANNEX/BLOOR WEST Readers Choice Award
- Platinum Winner of the Best Asian Restaurant
- Golden Winner of the Best Thai Restaurant

4. 2007 ANNEX/BLOOR WEST Readers Choice Award
- Silver Winner of the Best Asian Restaurant